Ambition Meets Granite:
the 1999 Sierra Expedition
---
DAY EIGHT
the Plan: exit via Lamarck Col to North Lake, then clean up and reload for Bishop Pass! Back on schedule at last!
We were up early again, hoping to get out before the weather reconsidered its recent behavior. At least one guidebook suggested that the first lake in Darwin Canyon should be passed on its south side, but the terrain north of our camp seemed better to Scott, and after a short while the path joined us there as well. We met another couple at the upper end of lake three; one of them had been this way ten years ago. We gave them a head start for their privacy and our guidance, then circled lake four. They cut left before the top of lake four, but we stuck with the path that nearly reaches lake five before turning north. As at Cartridge Pass, several paths ascend through the scree here, and losing one path merely meant finding another a minute later. It was a long trudge, but we finally gained Lamarck Col around 11AM. Although this is characterised as a cross-country route, the Park Service informally recognizes it by putting up a sign announcing one's arrival in Kings Canyon NP. Scott did not think the route would be so well-beaten; as it turned out he hadn't seen anything yet!
After celebrating our victory over his long-deferred route, we prepared to descend. Noting that the couple ahead of us had moved away rather slowly, we now discovered why: once again, a steep snowfield followed by large talus intervened. Scott chose to cross the snow into the rocks quickly, while my walking-stick gave me confidence to descend further on the snowfield. Unfortunately, I crossed into a rock-field with ice between the boulders, and a short skid further torqued my knee. We reached the flat slopes, weaved through flat talus, and began meeting a group of nine Arizonans on their way up to the col. I wrapped my knee in an elastic bandage and we continued down, avioding the two turns that could leave one hanging well above upper Lamarck Lake. We caught views of Grass and North Lakes and began to descend into the narrow valley, but a quick view of the topo map showed that it was time to turn left toward Lamarck Lakes. A faint path appeared in a dusty flat to the left, and we worked over that way. It then turned west and began a harrowing traverse above the valley to Grass Lake; I could not look over the edge without a touch of vertigo so I focused intensely on the narrow path. We then reached a crest and began an interminable switchbacking descent to a good trail below. At this point Scott openly questioned everything he had heard about the Lamarck Col "route", which was a clear path through absurd terrain rather than a vague path over obvious terrain. On the other hand, I was limping gently downward, grateful that the end was near.
Once on the clear path, we spent a rather obscene amount of time going uphill to lower Lamarck Lake. I commented that, at our rate of descent, we would NEVER reach the car! The trail finally dropped a bit, crossed the stream twice, and.. ASCENDED again!! Scott found a faint downhill path, but I suspected that we wanted the newer uphill trail, and he relented. Between lower Lamarck and Grass lakes the downhill finally came, and my knee was quite displeased. I met a young man cruising uphill with Lamarck Col on his agenda; after a bit of talking he noted that I was nearly out, since he was 30 minutes on the trail. Much to my dismay, it took me 40 to reach the trailhead, where Scott had been waiting a while. He went on auto-pilot for the last hour and reached the first picnic table exhausted and overheated. After a short rest, we hiked down the road to the hikers' parking lot, piled in to the Escort, and rolled merrily down to Bishop.
---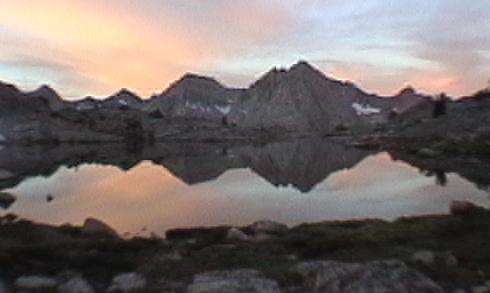 lowest lake on Darwin Bench