Ambition Meets Granite:
the 1999 Sierra Expedition
---
DAY SEVEN
the Plan: get to Darwin Bench in preparation for Lamarck Col exit Our schedule had mutated a bit, but by bypassing a few spots we could still reach Darwin Bench as planned today. We packed up early, beating the large group that had also reached the lake, and moved upward toward Muir Pass. The sky was again a perfect blue, but our poor sleep didn't help our pace much. We passed a few campers at Helen Lake, then they passed us near the top. The view from the Muir Hut was an interesting one, as ugly clouds were clearly visible in the western valleys while the weather overhead was perfect! Apparently another pocket of cold air had moved along the Pacific coast and was spinning offshore; had it been a little closer our suffering would have been great, but it was our lucky day. We visited the hut and relaxed a while, then strode downhill past Wanda Lake and several dense clouds of gnats before turning the corner and getting the perfect view of mts. Darwin and Mendel above Sapphire Lake. We ate a bit at Sapphire Lake, then cleaned up some at Evolution Lake before taking the detour toward Darwin Bench at the first steeply downhill switchback (as noted in several, but not all, guidebooks). We kept with tradition by losing the trail several times, but continuing on our way until it found us again. We passed the lower lake, reached the meeting of creeks from north and east, then headed uphill to find ideal camps among the whitebark pines. This day was still clear and warm, so we washed everything in sight even though we had only one more day of work ahead.
By this time it was becoming clear that our second adventure beginning at Bishop Pass was in jepoardy. My left knee and right ankle were quite sore, and Scott wasn't at full strength either. His plan was to return to his car at Taboose via Bishop Pass, going x-c and climbing Mt. Sill and/or Split Mt. along the way. If he was too tired to climb - and the view of Mt. Sill from Cataract Pass was clear in his mind! - why not take that hike another year? We hadn't explicitly stated that the second trip was off, but thoughts were turning that way...
What was NOT clear at the time: my camera's shutter was badly out of sync, rendering most of my images unviewable...
After cleaning our selves and clothes, we snuggled into our camps behind the pines and slept well. The temperature was warmer this night despite less wind and a camp at 11300 feet!
---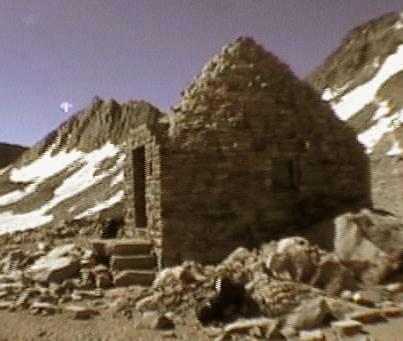 the infamous shelter on Muir Pass