The Next Big Trip!

---
Here's a page of simple details, with a monster topo map for reference.. Both routes referenced here are about 65-70 miles, and would supposedly take eight days. Hopefully at least a half-day of leisure fits in the middle of the trek, like around the Lyell Fork Merced!
Getting there

The trip begins on Friday 7/19, so PDX departure would be on Wednesday. If anyone needs to leave later than that, a flight to Reno no later than Thursday noon would also work. Thursday night would be spent at the familiar Trumbull Lake camp, where on-line reservations simplify matters. For good measure, an early arrival would allow a day-hike to the Virginia Lakes before nightfall.

the Route

We'd pick up the permit Friday in Lee Vining (or Thursday if time allows), then travel about ten miles south to the Bloody Canyon trailhead (short rough stretch). From there it's 4½ miles and 3000' up to Mono Pass, then SE toward Helen Lake. A cross-country traverse leads to the Muir Trail at Donohue Pass, and we'd stay on the JMT to Island Pass and views of Thousand Island Lake. Going off trail again, we head to North Glacier Pass and enter the North Fork San Joaquin drainage, a rugged and lonely place. Somehow we wander over to Twin Island Lakes and contour above Bench Valley before heading north. Two crossings into Yosemite NP are available, the most direct via Electra Peak itself (12442). This basin looks mighty interesting and deserves full exploration!
Dropping west off the high benches we'd reach trails again above the main Merced, then head north to Lewis Creek and the Vogelsang area. This is supposed to be quite pretty, but the High Sierra Camp there should also suggest some crowding. Heading north we abandon trails again for a while near Rafferty Peak, heading west and SW down Echo Creek until we hit the Muir Trail again near Echo Valley. The car should await us to the north, but the trip isn't quite complete until we stand atop Clouds Rest and peer down into Yosemite Valley from this highly-acclaimed perch! North from there leads to Tenaya Lake and trip's end.

the Other Route

If we decide to make a single-vehicle loop instead, the route remains the same to Vogelsang. From there, we'd either head east into the Lyell Fork of the Tuolumne and the Muir Trail again, or descend Rafferty Creek toward Tuolumne Meadows before heading east over the Kuna Crest and back down Bloody Canyon.

the Return

I expect to reach the car early enough on Saturday to make Susanville (or at least Reno) for the night. We could go the other way and make for Red Bluff, where roads are uglier but motels cheaper. Sunday 7/28 should see us back in Portland.
---
NOTE - much of this area is considered bear country, probably where most of the 'assertive' bears hang out thanks to the human pressure in Yosemite and near Thousand Island Lake. All precautions are worth taking with vehicles and camp food!

Several variations are possible here, using different passes or focusing on other areas. My original intent to visit the Clark Range is a bit too far off the route to access conveniently, but dropping a valley or two could bring it back into play...
---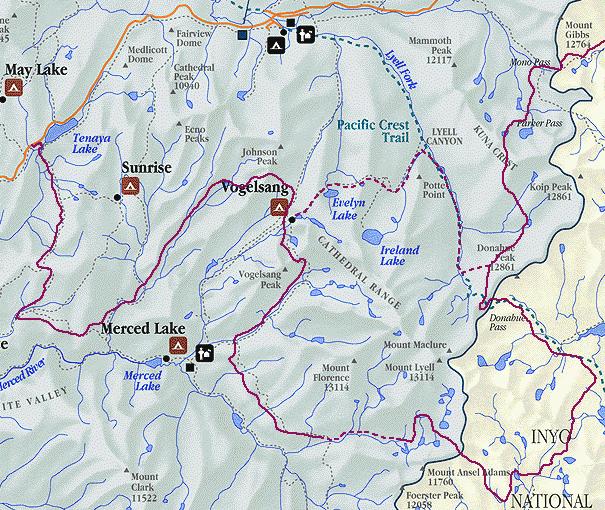 Here's a wide-field map of the route. Start at the upper-right corner (puple line) and work your way west to Tenaya Lake. The return loop would probably head from the Vogelsang camp past Evelyn and Ireland lakes to complete the loop (dashed line).