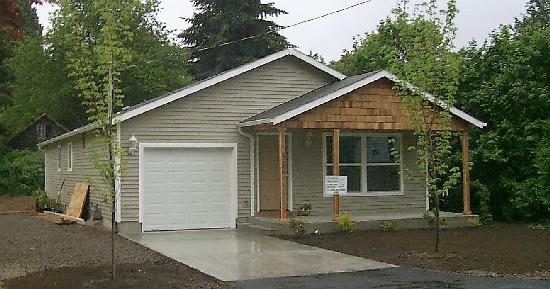 ---

the New Place

---
Circumstances have sent me on to new adventures in life, beginning with a new place to live. Here are a few images of the place as of Fathers Day 2002. The interior is far from furnished, so most of my things are still slowly migrating in from the garage. I can sleep, sip and relax here now, with bedroom and some furniture, but the kitchen is still under construction for a while, so my parents will continue to find me at their table quite often!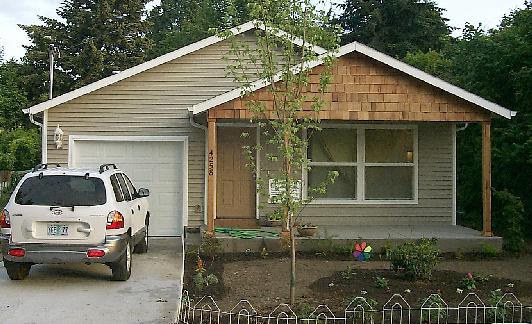 Here's a more recent picture of the yard. I have been putting a lot of energy there for several reasons. First, I had purchased many plants quite a while ago expecting to plant them much sooner at another address, and they were getting rootbound and wimpy. Also, the home came with no landscaping to speak of, so the yard needed a lot of attention! Finally, an impending rainstorm dictated they go in the ground ASAP in order to take full advantage of a good soaking.
Several gold-tinted plants should go nicely with the front door, which inevitably will be painted to match the door shown below. This door is in Cashel, Ireland, which I visited last September with family members; when it came time to select a door color for a sage-green house, this one sprang to mind. An Irish house should have a brightly-painted door, after all, so when a few other things are in place, the paintbrush and I will get to work.

---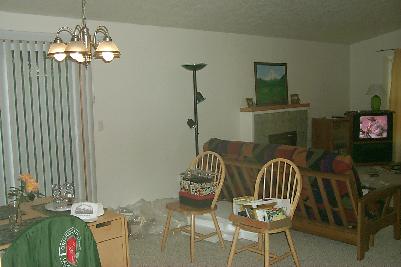 Since so much of the house is trashed while I unbox and assemble furniture, this is one of the few photos that can be published without alerting the fire marshal. My apologies to the Disney corp. for inadvertantly swiping a shot from Toy Story. I had already assembled the futon frame, audio cabinet and dining table, so the pile of plastic and styrofoam behind the chairs is ready to recycle.. guess I had better talk to the trash & recycle people to let them know I've moved in!
---